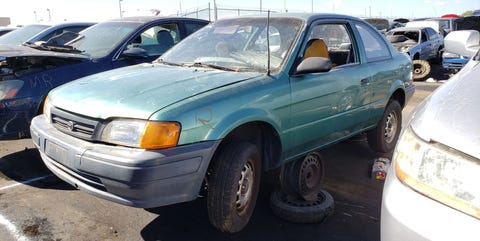 Murilee Martin
1 of 13
From the 1994 through 1996 model years, the Toyota Tercel was your only choice if you wanted a new car with a four-speed manual transmission. This is a '95, found in a Denver-area junkyard.
2 of 13
To get an automatic transmission in the base-grade Tercel cost $700 extra (about $1,200 in 2020). To move up to the Tercel DX with 5-speed manual cost $1,070 more over the $10,348 base-model sticker price.
3 of 13
Even glued-on plastic badges cost too much, so this car has decals for emblems.
4 of 13
The Tercel emblem hasn't fared well in the…